Soft and warm color palette
We've modernized the timeless tradition of picnicking, and combined with the convenience of a complete package and delivery service! Our Panacea Picnic Packages include a fully styled picnic lounge with a low table, rugs, pillows, poufs, and decor. This luxury picnic package features your choice of a handmade Cheese, Charcuterie, or Brunch board from Casero Austin. All boards come with 4 types of crackers including 1 gluten free option. All picnic packages are BYOB. Serving Austin, Lakeway, Dripping Springs, the Texas Hill Country and more. Sit back and relax and we will bring the party to you!
✅ Great for any occasion⁠⁠
✅ Outdoors and distancing safe⁠⁠
✅ No stress set up and tear down ⁠⁠
✅ Fun and festive ⁠⁠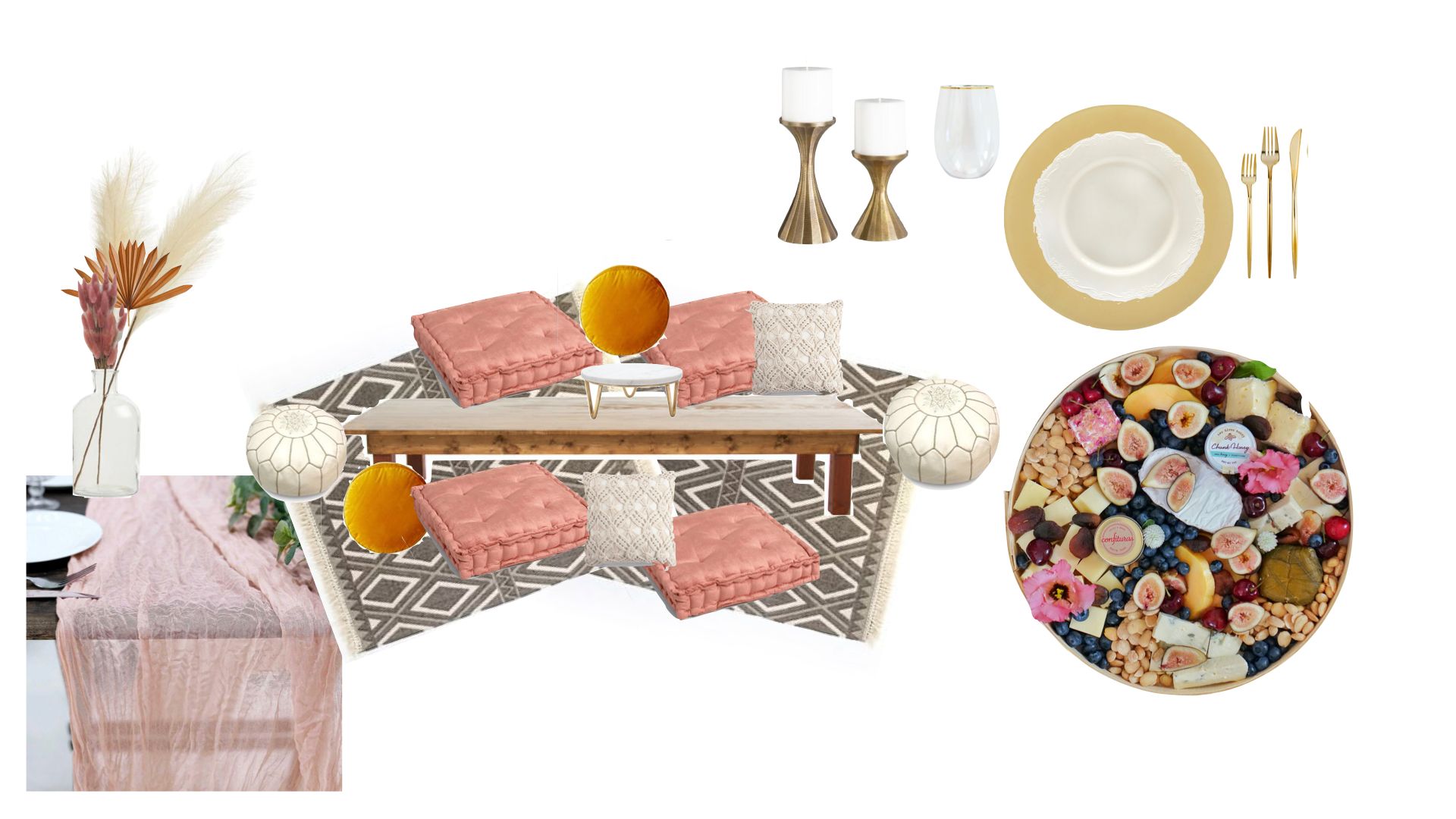 Packages include:
Your choice of a beautifully handmade Cheese, Charcuterie, or Brunch Board with Crackers
Cheese Board includes 5 different cheeses , local honeycomb, dried and fresh fruits, nuts, seasonal jam and 4 types of crackers.

Brunch Board includes 4 types of baked goods, fresh fruit, a honey chevre, local honeycomb, and four types of crackers.

Charcuterie Board includes 5 different kinds of American made charcuterie, dried fruit, olives, pickles, nuts, mustard, and four types of crackers .

Add On: Additional boards for $15 per person, or Crudite Board for $12 per person including a variety of seasonal vegetables with white bean hummus or green goddess dip.
Stylish disposables including plates, stemless wine tumblers, utensils, and napkins.
Tabletop Decor including candles, trays, dried florals, and a linen runner.
Furniture including low table, rug, pillows and poufs.
Pricing:
2pp - $255 plus tax / 2 hours
4pp = $300 plus tax / 2 hours
8pp = $415 plus tax / 2 hours
10pp = $475 plus tax / 2 hours
Upgrades:
-Additional hours - $55 / hour
-Disco ball tumblers - $18 / each
-Bar Cart with ice bucket - $60 (you bring the ice)
-Fresh Floral Arrangement
-Lounge Furniture - pricing by request
-Marquee Letters or Numbers
$50 per 3ft letter
$60 per 4ft number