Tropical AF Party Pack
Festive Party Supply Rentals In Austin
Bring your island getaway to your backyard.
With the right attitude and a little creativity, your dream of an island vacation with all your friends can become a reality. That is, with the right decor and party rentals! At the Panacea Collective, we offer themed celebration party rental packs to give you everything you need to bring the fun of an island to your own home. The Tropical AF Party Pack comes with all the food, furniture, decor, and other accessories you need to transform your space into an island party retreat. Continue reading below to learn how the Tropical AF Party Pack can transform your party, and call the Panacea Collective to start planning today!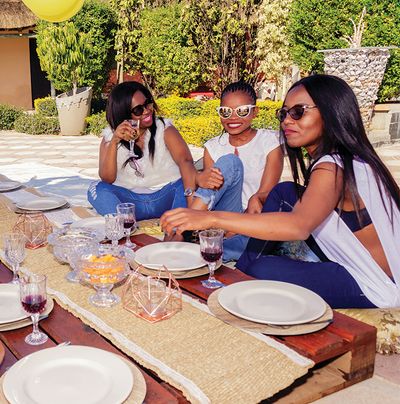 The Panacea Collective is your ultimate source for party rentals and event production:
Our event planners have thrown parties of all themes for groups of all sizes, from small private groups to national organizations! We know how to throw killer parties

Find everything you need to fit your taste and theme in our huge in-house collection of furniture, party decor, and accessories

Customize and upgrade the elements in our Celebration Packs to fit the needs of your event

Our event production team can produce custom set pieces

Our turnkey event production services are the perfect tool for stress-free parties
Austin's Best Summer Party Supply Rentals
Our Tropical AF Party Pack offers everything you need for the perfect island-themed party! You can customize every element in our party rental packs to get everything you need to enjoy the perfect island powwow, including: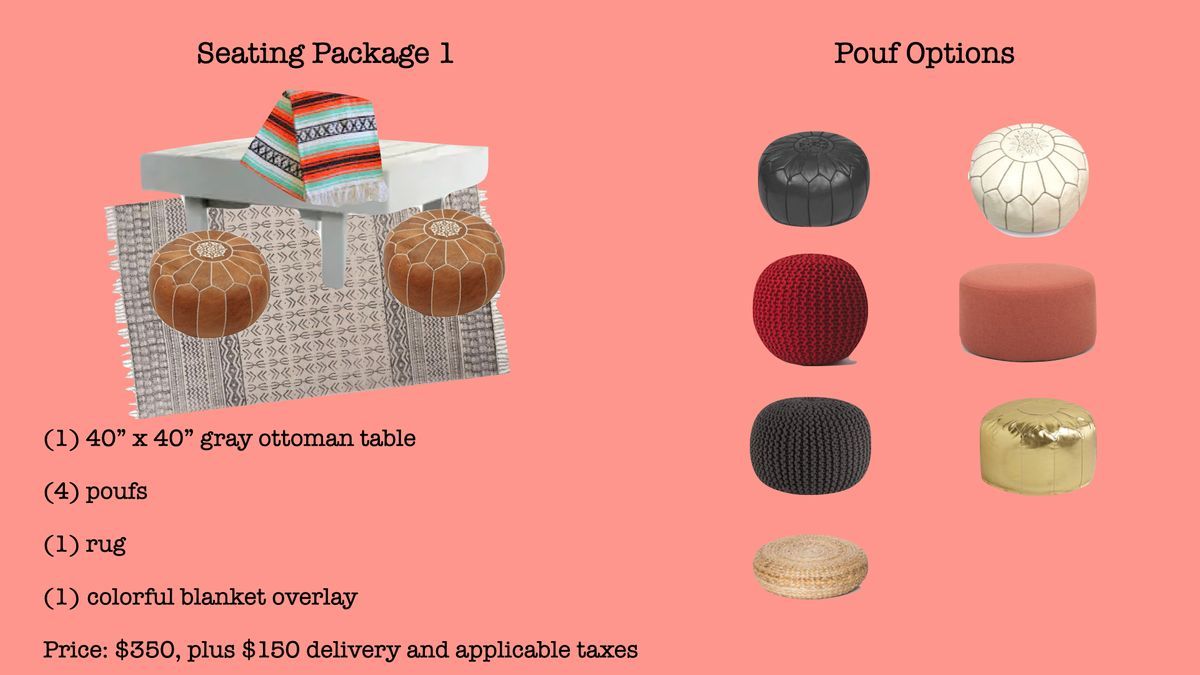 Seating Package 1
One 40" x 40" gray ottoman table

Four decorative, comfortable poufs

One chic, exotic rug

One decorative overlay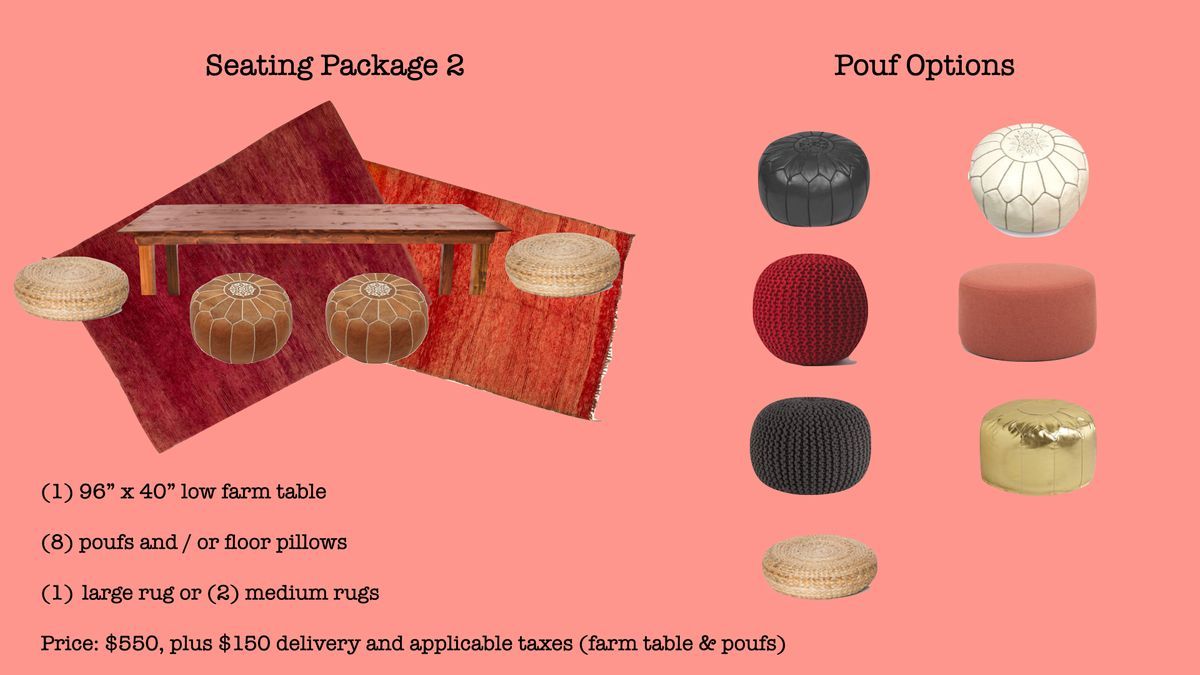 Seating Package 2
One 96" x 40" wooden low table

Eight poufs and/or floor pillows

One large rug or two medium rugs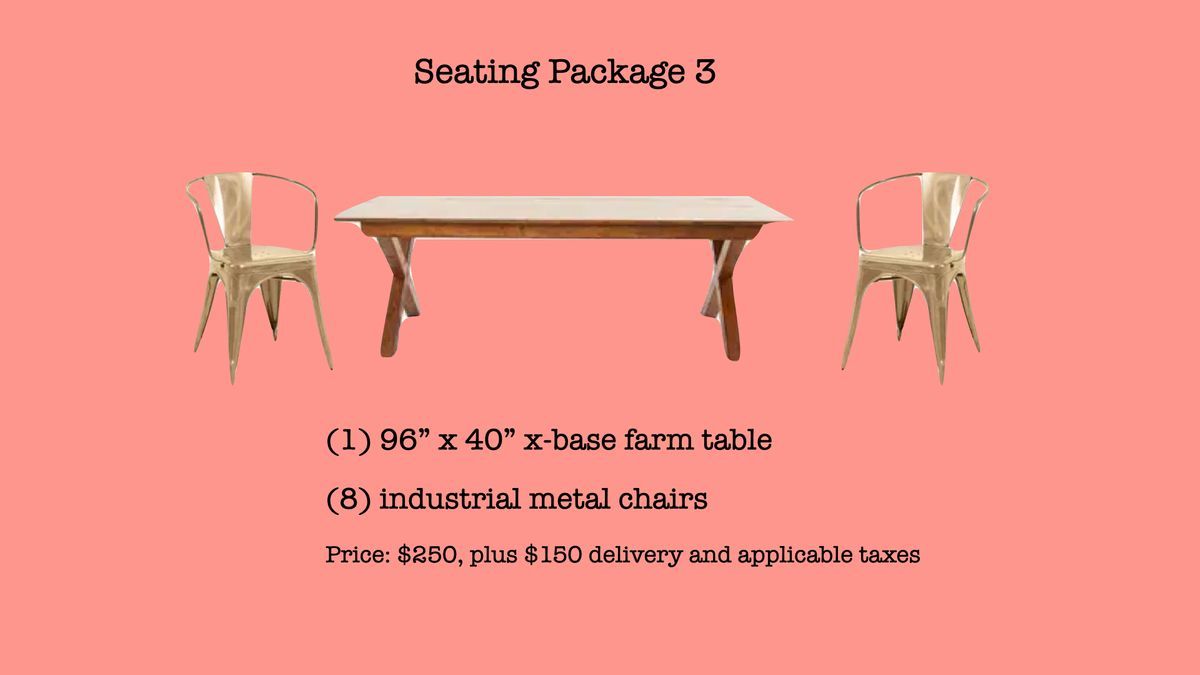 Seating Package 3
One 96" x 40" wooden base farm table

Eight comfortable industrial-style metal chairs
Food
Our catering team offers delicious Casero Cheese Boards for your party! Small cheese boards feed groups of roughly 6 people, and large boards feed groups of 15. We have a variety of cheese and charcuterie boards available, including:
Charcuterie & Cheese Board⁠ (Small $92/ Large $198⁠): An assortment of cheeses, charcuterie, fresh & dried fruits, pickles, olives, nuts, mustard, and seasonal jam.

Cheese Board⁠ (Small $92/ Large $198⁠): Five different cheeses , local honeycomb, dried and fresh fruits, pickles, olives, nuts, seasonal jam.

Crudite Board⁠ (Small $65/ Large $130⁠): A large variety of seasonal vegetables with a jar of Confituras lemon chili salt and your choice of dip: vegan curried white bean & roasted garlic or creamy herb & lemon.⁠
Drinks
Our Sourced Craft Cocktails Kits include all the ingredients and materials needed to make delicious cocktail refreshments for your guests! Each kit serves 12. The Tropical AF Cocktail kits include Jalapeno Margaritas ($7.56 per drink) or Strawberry Margaritas ($5.55 per drink).

We offer Champagne Carts and Trucks from Champagne Supply Co. to bring the glasses and bubbly to your party! This is a great refreshment option for large events, and starts at only $500.
Decor & Accessories
Our Gypsy Floral Fiesta Centerpieces add a tropical touch, and they start at just $115, though you must order a minimum of three for delivery.

Our Balloon N Smiles package includes 14-15 feet of tropical palm balloon garland, and starts at just $220!

Light up your party with our Alpha Lit Light-Up Marquee SUN SQUAD Letters! These brilliant letters make a bright statement for just $400.
Quit dreaming of an island getaway, and bring the fun of the tropics to your backyard with the Tropical AF Party Pack! Fill out the order form below or email hello@thepanaceaco.com to complete your order today.