At Home Drive-In Movie Party Pack
Picture-Perfect Party Supply Rentals In Austin
Bring The Film Festival Experience Home
With movie theaters closed and Hollywood shut down, what's a film lover to do? Why not host a movie night right at home? The Panacea Collective can equip you with everything you need to enjoy your favorite films with your family and friends, from tasty drinks and tempting snacks to audio and video equipment. We're the ultimate source for party supply rentals in Austin, and we won't let quarantine get in the way of enjoying a little fun now and then. Neither should you. Order the At Home Drive-In Movie Party Pack and host your own private film festival today!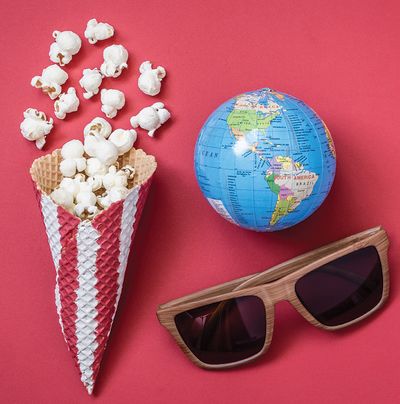 The Panacea Collective has everything you need to enjoy your favorite films on the big screen:
Our huge in-house collection of chic decor and furniture rentals has the perfect cushy seats for you to kick back and relax

Our event planners have decades of experience planning parties and events of all sizes

Upgrade any of our Celebration Packs to customize your experience!

Our team can produce custom decor and fabrications in-house

For stress-free parties and events, choose our turnkey event production services!
Austin's Best Movie Party Supply Rentals
Our At Home Drive-In Movie Party Pack has everything you need to enjoy the perfect movie night with friends! Each one of our party rental packs can be customized to include anything and everything you could need for your movie night, including:
Seating Package
One 96" x 40" wooden farm table

Eight plush poufs or floor pillows

One large rug or two medium rugs
Food & Drink
We can arrange delectable charcuterie boards from Casero for the perfect movie munchies! Casero's offers their tastefully arranged boards in two sizes — Small (feeds 6) and Large (feeds 15).
The Charcuterie & Cheese Board ($92 small/ $198 large) features an assortment of cheese, meats, fresh and dried fruits, olives, pickles, nuts, mustard, and a seasonal jam.

The Cheese Board ($92 small/ $198 large) features five different kinds of cheese, locally-sourced honeycomb, fresh and dried fruits, pickles, olives, nuts, and a seasonal jam.

The Crudité Board ($65 small/ $130 large) features a bounty of seasonal vegetables with a jar of Confituras lemon chili salt and your choice between vegan curried white bean and roasted garlic dip or creamy herb and lemon dip.
We offer Sourced Craft Cocktail Kits that include all the ingredients and materials needed to make special cocktails, perfect for sipping on during a movie. Each kit contains enough supplies for 12 drinks:
Jalapeno Margarita Kit — $7.56/drink

Hideaway Daiquiri Kit — $6.33/drink

Whoa, Black Betty Kit — $6.28/drink
Decor & Accessories
Enjoy a premium movie-watching experience with big-screen TV monitors, speaker systems, and uplighting, starting at only $300!

Adorn your home theater setup with elegant Gypsy Floral Centerpieces. They start at just $115, though there is a $300 minimum for delivery.
So what are you waiting for? Equip yourself with everything you need for the perfect movie night! Fill out the order form below or email hello@thepanaceaco.com to complete your order today.