Virtual Event Planning Guide
Get Quality Furniture Rentals & Event Planning Help In Austin
Virtual Event Planning Guide
Take Your Event To A Global Audience
Have you been frustrated with venue capacities at your conferences? Are you interested in strategies to lower your overall event production costs while simultaneously raising the production value? You can make your organization's events bigger and improve your ROI with virtual event production services from The Panacea Collective! We're your one-stop shop in Austin when it comes to events. We combine decades of event planning experience with a full-service event production team and a warehouse full of quality furniture rentals, decor rentals, and other accessories to enliven any space and offer you anything and everything you need to put on a memorable event. And going virtual only opens up more opportunities! Call The Panacea Collective today to book virtual event furniture rentals and other production services for your next virtual event, and continue reading to learn more about hosting an effective virtual event!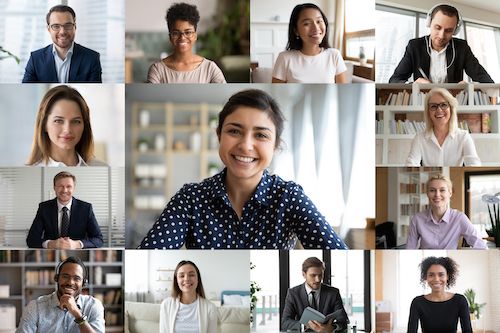 The Panacea Collective has everything you need to host memorable virtual events:
Create an eye-catching set with quality furniture rentals and decor rentals from our extensive in-house collection

We've helped coordinate virtual conferences and other events for organizations around the country

We have worked with a diverse and noteworthy list of speakers, special guests, and entertainers

Our team can produce custom decor and set fabrications

We can curate and send your attendees or event sponsors custom gift boxes to bring the personal touch to your virtual event

Enjoy a stress-free event with our turnkey event production services
Your Guide To Virtual Event Planning
Is your organization interested in hosting a virtual event? The Panacea Collective can help! In this guide, we'll discuss the increased ROI your organization can enjoy and the overall value you can add to the event goer experience by taking your events to the virtual stage, the ways in which our Austin event production team can help you plan and execute a seamless and memorable virtual event, as well as the essentials you'll need to pull everything off. Continue reading below to get started, and call our team today for quality event furniture rentals and event production assistance!
Why Plan A Virtual Event?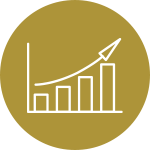 Increased Return on Investment
Producing an exceptional virtual event is not necessarily budget-relieving, but the trade-off for reaching a wider audience greatly improves your ROI. Depending on your goals and format for your event, virtual may be the best way to go if you want to expose your message to the masses. Virtual content is evergreen and can be viewed thousands of times over after the event date, allowing for ongoing interaction with your brand, special guests, and sponsors.
For some clients, nothing can replace the in-person engagement of intimate events. Many of our clients are reimagining future events as a hybrid of both virtual and live, with smaller and more curated live events that focus on engagement and connection, paired with a virtual component.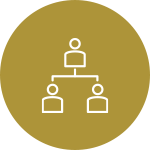 They Can Reach A Wider Audience
Attendance at physical, in-person events are limited to the capacities of the venues they're hosted in. As we re-emerge into live events, event capacities may continue to be limited for safety reasons. With virtual events, a streaming service gives you the power to offer your event to anyone and everyone! You may face some limits when it comes to the number of digital participants you want to include in a discussion or other group activity in your event's programming, but not if you invest in the proper bandwidth for your event. Otherwise, there's "virtually" no limit to the number of people you can reach!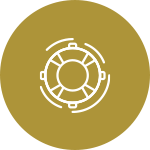 They're Less Vulnerable To Emergencies
Virtual events have risen out of a necessity during the era of COVID-19, but even in a post-pandemic world, virtual events will be more secure and less prone to cancellation than live events. Whereas you might have to cancel an event due to weather, or significantly shake up the programming of a live event if a planned guest or speaker is late or falls ill, with virtual events, you can respond more nimbly to unexpected challenges.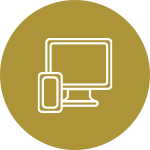 They're Here To Stay
Most importantly, virtual events are the way of the future. Even before the COVID-19 pandemic shut down live events worldwide, workforces were already starting to shift towards a more mobile, digital-first approach to business. While nothing replaces genuine human interaction only experienced when we gather together, virtual events provide fewer barriers to entry and greater access. Whether location or travel is an issue, or the cost to attend in person is not financially feasible for some, virtual events allow for more eyeballs and engagement with your content and message.
Virtual Event Planning Services At The Panacea Collective
If you're interested in reaching more people and creating a high-value production virtual event, connect with The Panacea Collective! Our event production specialists have decades of experience planning and executing events of all sizes, and we have the expertise necessary to help you transition seamlessly to virtual event programming. More importantly, we've got an extensive in-house collection of decor and event furniture rentals to beautify your on-screen spaces, as well as the industry connections necessary to land you the perfect guest speakers and entertainers. Connect with our Austin event production team today to get started!
Why Choose Panacea To Be Your Virtual Event Planners?
Some of the most well-known organizations in the US continually turn to the event production experts at The Panacea Collective to help put on their events. Here are a few of the reasons why: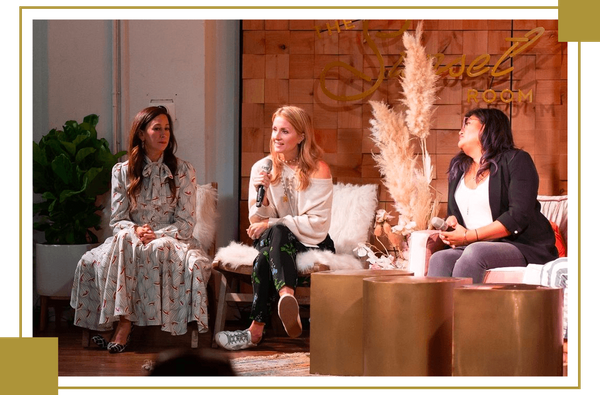 We've Got The Expertise
The Panacea Collective was formed by longtime veterans of the event production industry in Austin. We've cut our teeth planning and executing events of all types and sizes, from art and music festivals and private parties to business conferences, industry seminars, charity events, and more. We've had the privilege of organizing events for some of America's most recognizable brands, and our shining record of success of throwing events for clients in a variety of industries distinguishes us from other event production firms.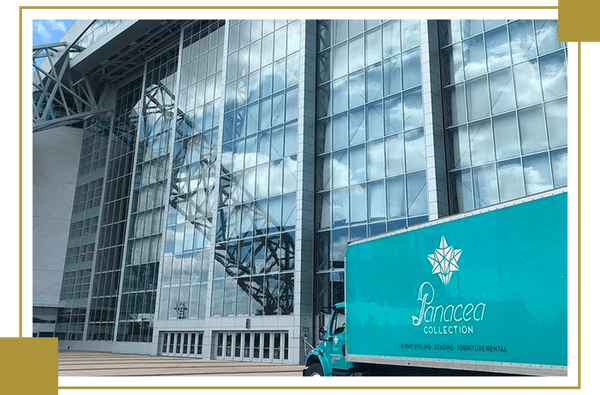 We're A Full Service Event Production Company
Are you tired of managing all of the details, logistics, and vendors for your organization's events? You can kiss that headache goodbye when you partner with The Panacea Collective. We know just how important convenience is when it comes to smooth, seamless event planning, which is why we've built out a full-service event production team that can handle every need from details large and small. From our turnkey event production services and event furniture rentals to our custom fabrication, we have the experienced professionals needed to deliver every service you could need for your next event. We strive to be a one-stop shop for event production for our clients!
Check Out Our Virtual Productions
Our expertise in the live event production industry translates seamlessly to virtual events. Don't believe us? Check out one of the most recent virtual events we had the privilege of coordinating!
Keys For A Successful Virtual Event
There are certain elements to event production that are just as important for virtual events as they are for live, in-person gatherings, such as quality programming, dynamic guests, and a thematic focus to the event. There are certain factors, though, that are also essential when planning a virtual event, including: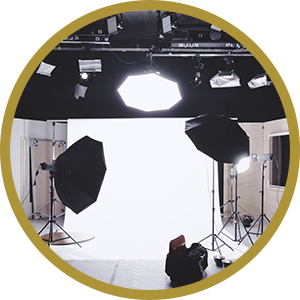 Proper Lighting
Presentation value is everything when it comes to the perceived quality of a virtual event, and that starts with lighting. You'll want to consult with a lighting professional to ensure everyone that is going to be well-lit with a lighting scheme that lights them up without washing out their facial features. You'll also want to consider matching the lighting tone to the tone you want to set at your event. For example, you might use warm lighting for an event that includes a group discussion or Q&A with speakers to cast them in a more inviting light to draw more interest from attendees.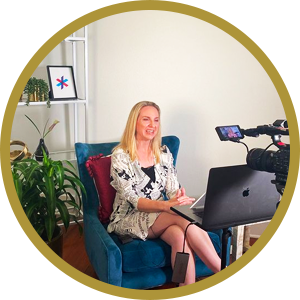 Experienced Videography
In addition to lighting, you may also want to seek the expertise of an experienced videographer. They'll be able to advise you not only on proper camera framing for the various guests and speakers at your event, but also on set dressing strategies you can use to dress up your background to emphasize the theme of your event. For instance, many professional speakers will position themselves in front of neatly kept bookcases when on-camera in order to heighten their appearance of authority on their subject matter.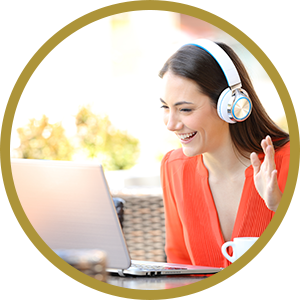 Reliable Streaming Technology and Technical Direction
Sometimes Zoom alone just won't cut it. If you're planning a virtual event with multiple speakers, give The Panacea Collective a call! We can help ensure you have the right setup to broadcast your virtual event to all of your intended audiences, as well as the technical direction and editing to level up the production value.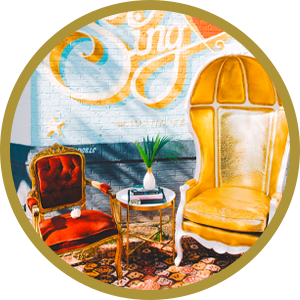 Set Dressing
Invest a little more in the aesthetic of your digital experience. Really curate the space you have on camera — get some high quality decor and furniture rentals and trick out the space or space(s) you plan to have on camera! The trick is to give viewers the appearance of a high-value production and posh event space, when really, your investment is limited to just the space they see on-screen. Set dressing is your opportunity to emphasize the theme of your event visually!
Go Virtual With The Panacea Collective
Don't struggle to create a professional, memorable virtual event experience on your own. Connect with Austin's most well-regarded event production firm, The Panacea Collective, for event furniture rentals and virtual event production help today! We look forward to helping you achieve your objectives and enjoy an engaging digital experience!