Venue Transformation
Elegant Design From Austin's Best Event Management Team
Make Your Event Space Uniquely You
When you're planning an event to raise your organization's profile or boost your company's brand, you need to put your company's personal touch on it to make it a truly unique and memorable occasion. What better way to do that then by transforming your venue with elegant, beautiful event design? At The Panacea Collective, we've transformed plain venues into unique, enchanting spaces for entertainment, industry gatherings, corporate events, and the like for decades. We're one of the most experienced event management teams in Austin! Call us today, and let's talk about how we can makeover your event space to push your event (and brand) to the top!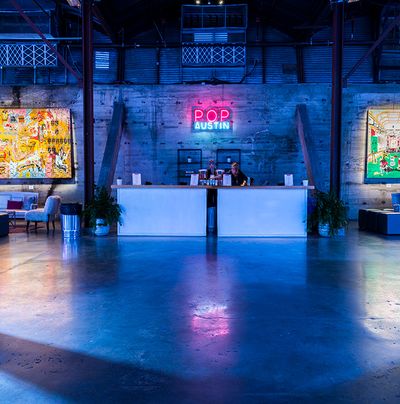 The Panacea Collective can effectively meet your company's venue transformation needs:
Our event planners and designers boast decades of industry experience

We utilize our relationships with product and service vendors to secure the highest-quality goods for your event and maximize your budget

We offer an extensive in-house collection of furniture, decor, and accessories

We offer custom fabrication services to create unique set pieces

All of our design work for your party, corporate event, or other special occasion is completely customized to meet your goals and budget
Venue Transformation In Austin
The Panacea Collective team has been in the business of crafting breathtaking event spaces for decades. We cut our teeth turning public parks into pop-up cities with eight stages, a curated food court, dozens of bars, a non-profit marketplace and an art market. We've transformed 10x10 tents into oases, dive-bars into corporate headquarters, and empty storefronts into timeless pop-up shops. Our team of architects, designers, fabricators, lighting experts and stylists live for the challenge of transforming a space into something entirely new, igniting imagination, and seeing their work flooding Instagram.
We know that an essential part of any memorable event is the first impression attendees get when they walk in the door. You may have received positive feedback about the work of other event planners you've partnered with in the past, but we shoot for more than that — we strive to create spaces that elicit the silence of jaw-dropping excitement and enraptured guests. Check out our Instagram to see examples of some of the venues we've transformed for past events, and call The Panacea Collective today if you'd like to enjoy a truly memorable space for your next event.